BBC News


[World] Armenia says 105 troops killed in Azerbaijan border clashes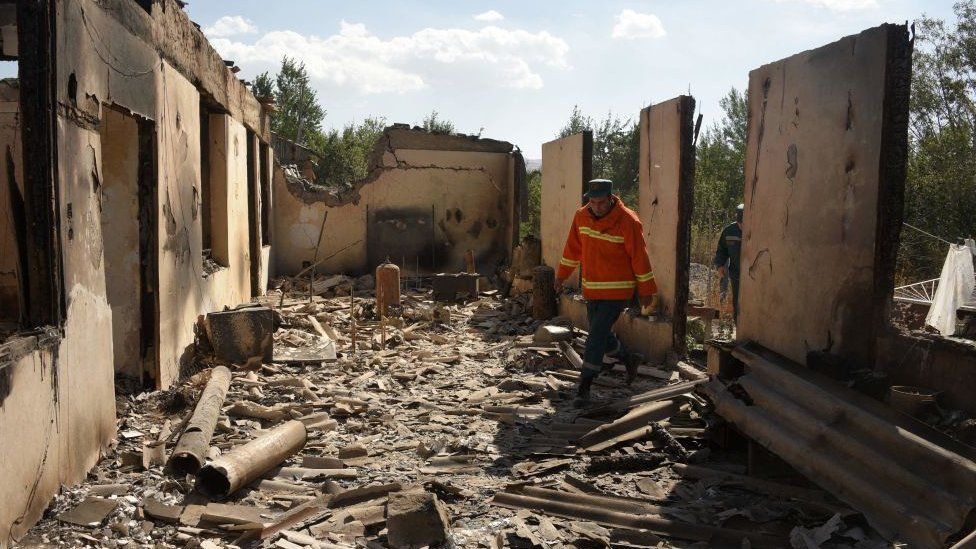 More than 100 Armenian soldiers have been killed in border clashes with Azerbaijan since Monday, Armenian Prime Minister Nikol Pashinyan has said.
Azerbaijan says 50 of its own troops have also been killed in the fighting, which both sides blame on the other.
It is the latest in a series of long-running conflicts fought between the two former Soviet republics over the disputed Nagorno-Karabakh region.
Russia and the US have each called for peace between the two countries.
Speaking to his country's parliament, Prime Minister Nikol Pashinyan said 105 Armenian servicemen had been killed since Monday night in attacks he blamed on Azerbaijan.
He also accused Azeri troops of occupying 10 sq km (4 sq miles) of Armenian territory this week and said he had now turned to Russia for military assistance - a long-time ally of Armenia.
Azerbaijan denies the Armenian account of this week's events, including reports that it fired upon vehicles belonging to Russia's FSB security services stationed inside Armenia.
Instead, Azerbaijan claims its neighbour started the conflict by shelling military targets within its own district of Kalbacar.
"Our units are taking the necessary response measures," Azerbaijan's defence ministry said, according to Reuters.
A fragile ceasefire brokered by Russia on Tuesday failed to hold, with both sides blaming the other of breaching the agreement and reports of violence continuing into Wednesday evening.
Late on Wednesday evening Armenia said a truce has been agreed with Azerbaijan, although there has been no confirmation yet from Azerbaijan.
The fighting is the deadliest to break out between the two neighbours in two years.
International leaders are intensifying diplomatic efforts to prevent it from escalating into an even deadlier war - as has happened with previous skirmishes in the past.
In addition to the human cost of a second war in the former USSR, a full-blown conflict would risk dragging in Russia and Turkey, both key powers in the region, as well as disrupting crucial oil and gas transit routes.
As part of that diplomatic effort, the Russian-led Collective Security Treaty Organisation (CSTO) is sending a peace mission to Armenia that the Kremlin said would arrive "imminently".
Turkey is aligning itself with Azerbaijan and its President, Recep Erdogan, has accused Armenia of starting the conflict by violating an existing peace settlement.
In Washington, US Secretary of State Antony Blinken held phone calls with the leaders of both nations in the hope of facilitating a ceasefire - urging Moscow to do more as well.
A long-running dispute between the neighbouring republics over the mountainous Nagorno-Karabakh region has led to full-scale war in the 1980s and 1990s, a six-week war in 2020 and continuing clashes for decades.
Although internationally recognised as part of Azerbaijan, the region has long been populated and effectively administered by ethnic Armenians.
A Moscow-brokered peace deal that ended the 2020 war saw Armenia withdraw its troops from some occupied areas within Azerbaijan.
A Russian peacekeeping force of nearly 2,000 men was deployed to the area as part of the negotiations, where it remains today.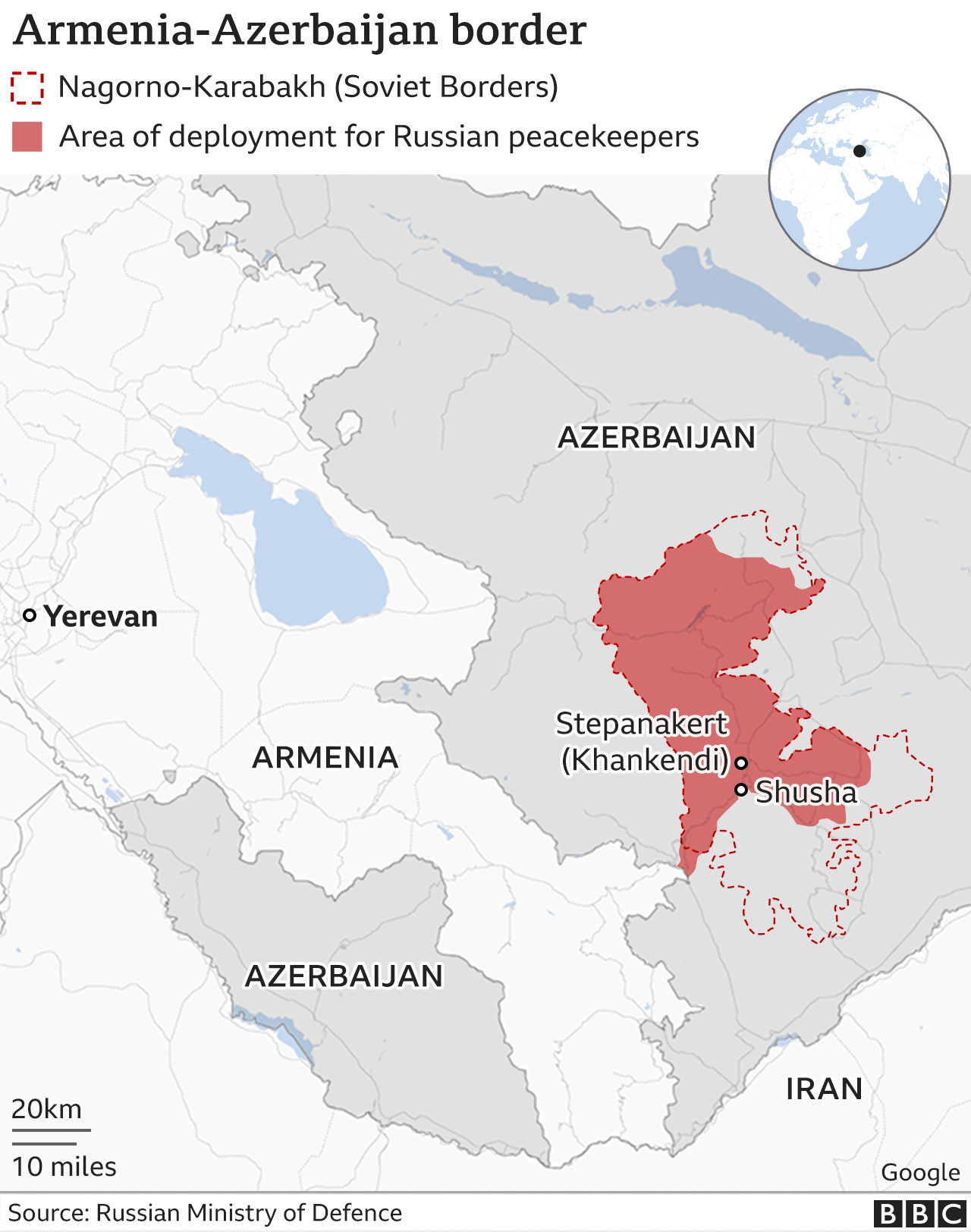 https://www.bbc.co.uk/news/world-europe-...medium=RSS
&at_campaign=KARANGA